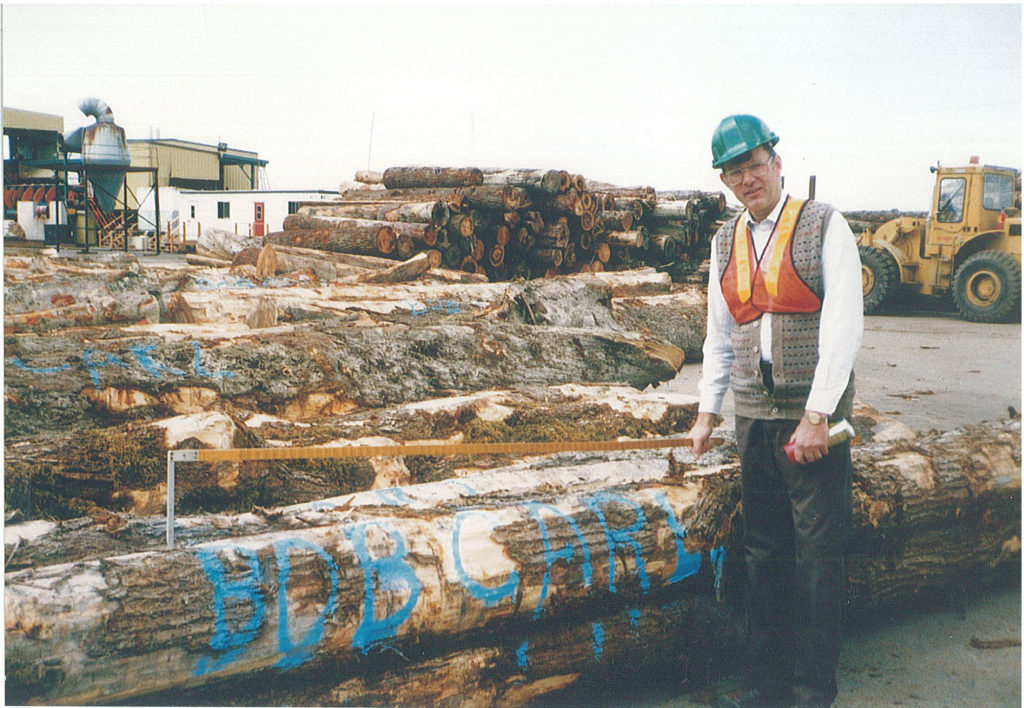 The Carl family has been involved in the lumber industry for many years, here is a little of our family's history:
Robert McGregor married Mabel Carl in 1930. In 1946 he started a company called  McGregor Lumber and soon after he formed West Coast Hardwood. Later he founded Vancouver Sawmills and purchased Esmond Lumber and Fleetwood Door. Robert (Bob) McGregor had a true entrepreneurial spirit!
Robert Carl (Mabel's nephew) started working for his Uncle Bob in 1959 after training to become a BC Forest Service Log Scaler. Robert Carl (in photo above) developed and ran Esmond Lumber (located at Hastings and Boundary) and later managed West Coast Hardwood. Vancouver Sawmills and West Coast Hardwood were located at 1111 East 7th Avenue in Vancouver. In 1974 the entire sawmill burned to the ground. It was never rebuilt on this site and the property was later sold for use as the King Edward Campus of Vancouver Community College. West Coast Hardwood was moved to Burnaby (Norland Avenue) in about 1976.
In 1984, Robert (Bob) Carl and his Uncle Bob parted ways. Robert Carl and Sylvia Carl formed CarlWood Lumber shortly after. CarlWood is now operated by Bob's son, Doug Carl and spouse Cathy Carl, and has two separate divisions: Industrial Timber Products (2010) and Lumber Store by CarlWood (2019). In 2019, a third generation of Carl joined the team – Bob's granddaughter and Doug's daughter Alexandra Carl.